Pub and Brewery News - September 2021
Monday 6 September 2021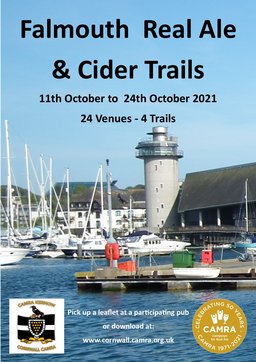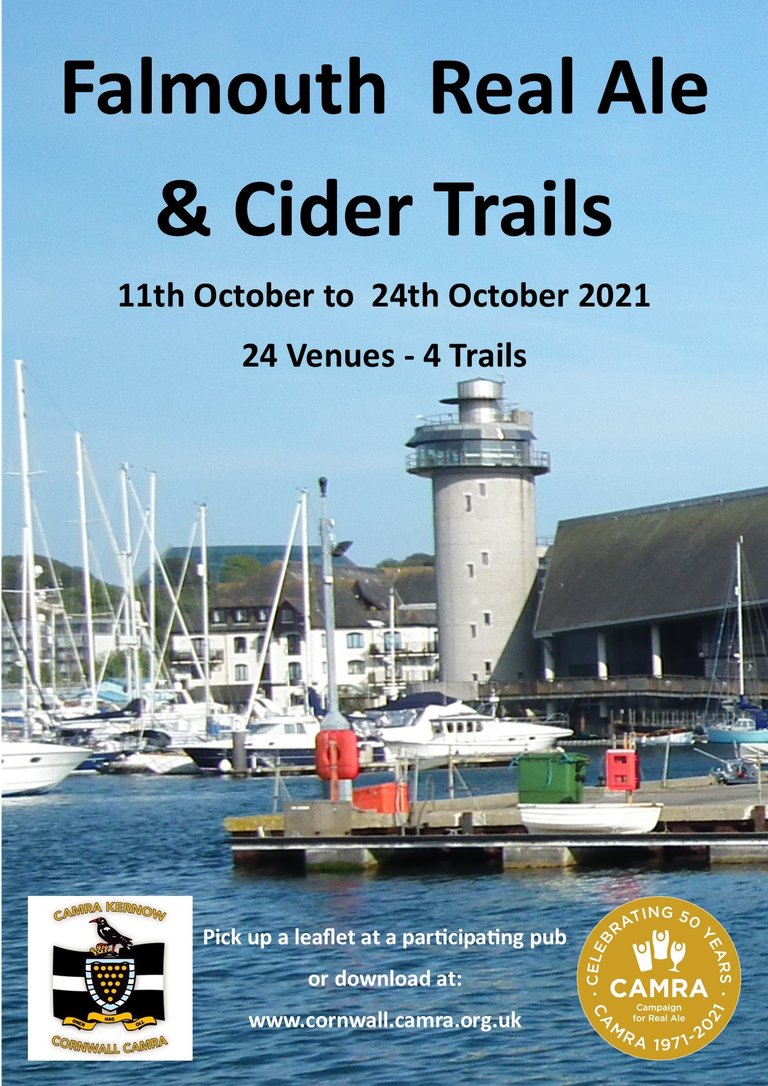 The following pub and brewery news was reported at the September 2021 Committee Meeting.
Post Meeting Note Cornwall CAMRA have organised 24 pubs to jointly run a Falmouth Pub Trail - details Falmouth Pub Trail Leaflet 2021
Pub News
The gentleman who had a photo of the Cambridge, Queen Street, Devonport, subsequently supplied another 99 1982/83/84 Plymouth branch area pub photos, including the Talbot, Union Street; Star, Cambridge and the Standard, Queen Street, Devonport; Ark Royal (Zoo Rooms) and Western, Fore Street, Devonport; General Moore, 28, Manor Street, Stonehouse; United Service Inn, 32, Edgcumbe Street, Stonehouse; United Services Inn, Lambhay Hill, Barbican; and other pubs sadly no longer trading as pubs. There are also a number of pubs that are still trading ! How they have changed structurally, and in name !!!!
Bitter & Twisted, Tavistock, is now closed again; Crooked Spire, Ermington, is under new management and has been completely refurbished; Dartmoor Union , Holbeton, is believed to be under a planning application for change of use to domestic dwelling; Forest Inn, Hexworthy, is also under new management and appears to be serving Dartmoor beers; Leaping Salmon Inn, Horrabridge, may be under new management? Mary Tavy Inn, Mary Tavy, is also under new management; Mildmay Colours, Holbeton, is open and serving a regularly-changing range of local ales; Miner's Arms, Hemerdon, is still closed; Modbury Inn, Modbury, is also under new management, with Craig from the Dolphin, Kingston, taking over recently; the Odd Wheel, Wembury, is also under new management; the Tavistock Inn, Tavistock, is being run by a Relief Manager, a temporary arrangement for the time being; the Trout 'N' Tipple, Tavistock, may also be under new management; Who'd Have Thought It Inn, Milton Combe, is also understood to be under new management.
Thatchers and Weston's cider is no longer considered real cider by the Real Ale, Cider and Perry Campaigns Committee of CAMRA.
Plymouth CAMRA LocAle Scheme
There are currently 73 establishments listed as being accredited to the Plymouth CAMRA LocAle Scheme. These are listed on the branch website PLYMOUTH CAMRA LOCALE SCHEME. CAMRA Member Discount Scheme and CAMRA Voucher Scheme There are currently 21 establishments listed as being members of the CAMRA Member Discount Scheme, and a further nine which are part of the CAMRA Voucher Scheme, making 30 in total. Please give these pubs your support if/when you go out! These are listed on the branch website PLYMOUTH CAMRA MEMBER DISCOUNT SCHEME. Planning Applications No planning applications have been found during the last month referring to any branch area pubs. Cask Marque Accreditation The Pub On The Hoe, The Hoe, and James Street Vaults, City Centre, are no longer Cask Marque accredited, wef August 2021.
Brewery News
Anchor House and Billy Ruffian's – no news; Bere Brewery continue to brew every week and, with restrictions lifted, they are having their Tap Room open at least once a month. They are also selling their bottled conditioned beers at Tavistock Market on various dates (Go to their website for details on dates). Bulletproof have teamed up with TQ Beerworks to carry out some new collaborative brewing; Dartmoor continue to brew their full range of beers; Devil's Pleasure, Sigford, South Devon, is a new brewery founded on the edge of Dartmoor National Park, on a farm near Newton Abbot, in 2020 and specialising in brewing punchy bold craft beers which are unfiltered and naturally hazy. The two owners are Oz and Al, who have been friends for years. Their beers mirror their passion: They are direct, full of character, have bold tropical notes, and are unfiltered and hazy. They aim to not be static, so look out for new creations and one-off brews. The website lists five beers as the most recent additions:- Breakfast Juice IPA, ABV 3.8%, described as fresh and citrusy with an intensely grapefruit flavour; Hellishly Hoppy IPA, ABV 4.0%, described as vibrant, fresh and delicious. Californian and German Hops combine to make a truly hellishly hoppy experience; Crafty Lager, ABV 4.5%, described as a lager profile fused with hops, sure to please lager lovers and craft beer enthusiast alike; NEIPA, ABV 4.5%, described as a New England IPA – punchy flavours and intense bittering; & West Coast IPA, ABV 4.6%, described as dry, mouth watering and punchy. Citrusy hop nose and finish. Australian and Californian hops create a craft beer for adventurous beer lovers. Gilt & Flint, Musbury, East Devon, are a new brewery and they generally produce ORGANIC beer which is bottled, or canned. The range includes a lager, a pale ale, a NEIPA and a stout; Ivybridge – no news; Morwell have only started brewing recently, when the Ship Inn, Morwellham Quay, reopened in July 2021. They provide cask conditioned ale for the pub and also have bottles of their 3 ales to buy from the bar for taking away. Free parking is available to visit the Ship Inn only at present; Noss Beer Works – no news; Platform 5, Newton Abbot, have relocated to Torquay from the Railway Brewhouse, which has also changed ownership recently; Roam – no news; demand for Stannary beers has risen, with more brewing, canning, running the online shop and the popular tap room. The tap room has been complemented by the addition the "Beer Shed", a large covered outdoor area. The core range remains the same (Stannary Pale 4%, PL19 - craft larger 4.2%, All That Jazz - session IPA 4.2%, Reverse Camber - west coast IPA 5%). They have just celebrated their 6th Birthday with Lupo Juice (8.7% double IPA) brewed every August for the event. The tap room is now open Fridays 3-10pm and Saturdays Midday - 8pm; Steel Brew Co continued to brew and bottle during Lockdown and also started doing deliveries. They are now brewing their keg beers again to keep their Tap Room replenished. Currently, the taproom opens Wednesday to Sunday (check their website for times). They continue to brew one-off beers to go alongside their four core beers, which are Mantra, Plymouth, Chairman Meow and Breakwater; Summerskills are brewing once or twice a week at the moment. Following the Lockdowns and woefully inadequate and inconsistent financial support from government for breweries without taprooms, Summerskills are reassessing their channels to market and options going forward. Summerskills are now licenced for retail sales to the public from the brewery. Their bottle conditioned beers are also available to order online with delivery from Westcountry Produce (www.westcountryproduce.co.uk). The Foxhound Inn at Brixton are also continuing to take orders and payment for their beer for local home delivery or collection from the pub. Owner Norm is planning to bring their branding all in line with the bottle labels and refresh the website. Summerskills is still offering 5 and 10 litre bag-in-box beers to order, as well as a wide range of their bottle conditioned ales available for sale from the brewery along with some craft beers, ciders, wines and spirits not generally found in the supermarkets; Turk's Head, High Street, Exeter, is a new brew pub and part of the City Pub Group. The pub has been closed since 2018, but reopened on Wednesday 1st September 2021 at 1600. It is believed that the pub has had extensive refurbishment during the Lockdown period, including hotel accommodation. The brewery is a 5 BBL plant and will be offering both real ale and keg products, initially building up to a range of 10 products (5 of each). The brewer will be Simon, who is normally based at King Street in Bristol. The pub is quite old and has a lot of history - Charles Dickens used to frequent there back in the day. Along with offering a range of alcoholic beverages and pub food, there will also be 6 guest rooms above the pub and a secret roof terrace. Plymouth CAMRA would like to wish all publicans and brewers all the very best during these continued very difficult trading conditions.