Where Are They Now - Swan Inn, Devonport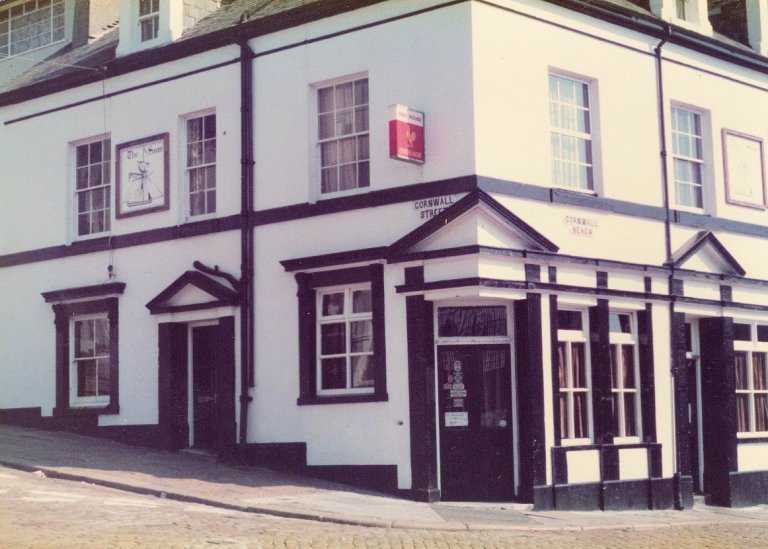 Swan Inn, 6, Cornwall Beach, Devonport PL1 4PD
A stalwart of Plymouth's real ale scene during the seventies, eighties and nineties, the Swan was built towards the end of the 18th century, trading as a public house for over 200 years. It is thought to have been named after a 300 ton sloop of this name, built in the adjacent dockyard during the 1760's.
At that time, the street was known as North Corner Street, for this was the extent of the dockyard, and the ferry to Torpoint ran from here.
The image on the left shows the pub as it was in April 1984 (thank you to Lee for this image). Beer-wise, the 1984 CAMRA Good Beer Guide described the pub as having a "Great atmosphere, great beer"! Ales at that time included Eldridge Pope Dorchester Bitter & Royal Oak; Golden Hill (now Exmoor) Exmoor Ale; Hook Norton Old Hookey; Marston Owd Roger; St. Austell Hicks Special; Ushers Best Bitter & Founders; & Wadworth 6X – what a great selection, and I must agree with the author! The following year, regular weekly folk music started on Tuesday evenings.
Sadly, by the time of publication of Moor To Sea – A Devon Real Ale Guide in 1993, the beer range had become much less of local interesting ales, with the likes of Draught Bass, Ruddle's Best & County, and Webster's Yorkshire Bitter replacing those previously mentioned, and the pub was sadly converted into flats in 1997, as shown in the thumbnail photo below, taken in March 2017.