Where Are They Now - Crown Inn, Stonehouse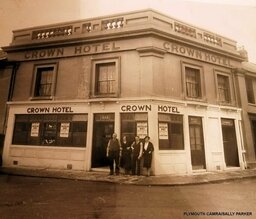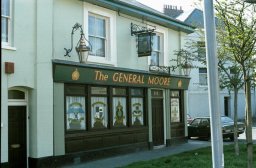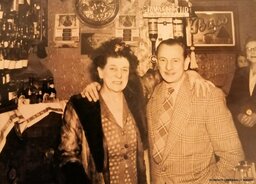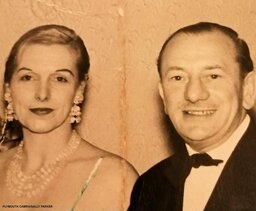 Crown Hotel/Inn (General Moore), 28 Manor Street, Stonehouse, PL1 1TW
The Crown Hotel/Inn, Stonehouse, was established as a public house for well over 100 years, before changing its' name in 1983 to the General Moore, as shown in the image to the right from May 1984 (thank you to Lee for the image), in honour of the Commander of the British Land Forces during the Falklands Conflict of 1982.
The pub was run by three generations of the Parker family from the 1920's (confirmed as at least from 1921), as shown in the photo above left – with many thanks for Sally Parker who has sent me these earlier images. Her great grandmother, Charlotte, was the first of the family to run the Crown Hotel. Upon her death, her son, Jack Parker, carried it on. This photo shows the pub with the elaborate ornamental roof balustrade, and Sally's grandparents, Jack on the far left and May on the far right, and between them are their daughter, Myra, and son, Colin (Sally's father and future landlord).
The thumbnail photo below that shows Sally's grandmother, May, and her father, Colin, behind the bar in the late 1940's. The next photo below that shows Sally's parents, Colin and Joan as landlord and landlady, taken in the early 1960's. The final thumbnail photo below shows the building in use recently (March 2017) as Oasis Project Cafe.
Due to its' location, we believe that is had a strong affiliation with the Royal Marines, as shown by its' name change to the General Moore in 1983, as shown in the photo above on the right. It has not been listed in any of the CAMRA guides that have been published over the years.
The pub reflected the customers and clientele of the day. Sadly, it is believed to have closed in the late 1990s/early 2000s. The pub is now operating as the Oasis Project community cafe, as shown in the image below left from March 2017. Please contact Plymouth CAMRA if you have any further details.