Where Are They Now - Commercial Inn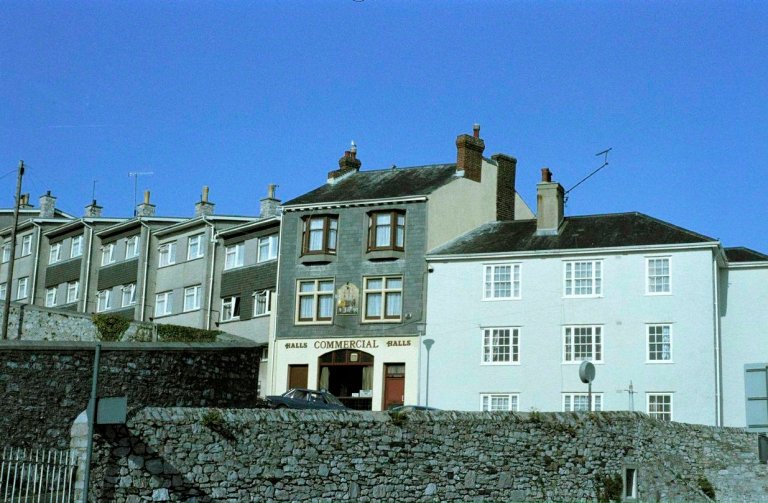 75 Lambhay Hill, Barbican, PL1 2NR
The advent of the railways in the mid 19th century led to small hotels and inns specifically looking for newly generated travelling custom, and the name Commercial was fairly common at this time. It is believed that there were several in and around the Three Towns, with Devonport having a couple, Stonehouse at least one and Plymouth three or four.
This one, situated on Lambhay Hill as shown in the image to the left in October 1982 (thank you to Lee for the image), survived for a very long time, despite most of the other buildings around it being redeveloped over the years. It was a beer house, that is licensed to sell just beer and cider, until the mid 1950's when it acquired the full publicans license from the Newport Inn in Edinburgh Road, Devonport, when that pub became a casualty of the South Yard extension to the Dockyard.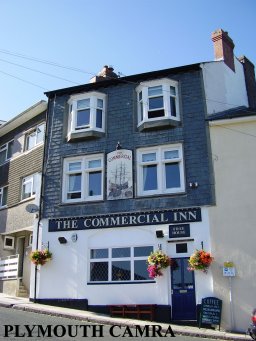 In the Devon CAMRA guide, Moor To Sea – A Devon Real Ale Guide of 1993, it was described as a small one-bar pub with an emphasis on food at lunchtimes, and served Ferguson's Dartmoor Best Bitter on one handpump. The image to the left shows the pub in May 2006.
The pub had a very loyal local trade, but was situated "just too far" from the Barbican to be one of the busier pubs. It was, though, a very friendly pub. The walls were adorned with nautical memorabilia, with loads and loads of Royal Navy ship crests and other such items. It still managed to stock one real ale which was served on gravity direct from the cellar, usually from a local brewery such as Summerskills.
Despite the best efforts of the previous licensees, the pub closed upon their well-earned retirement in January 2014.