Pub and Brewery News - October 2021
Monday 4 October 2021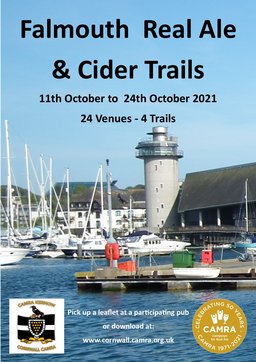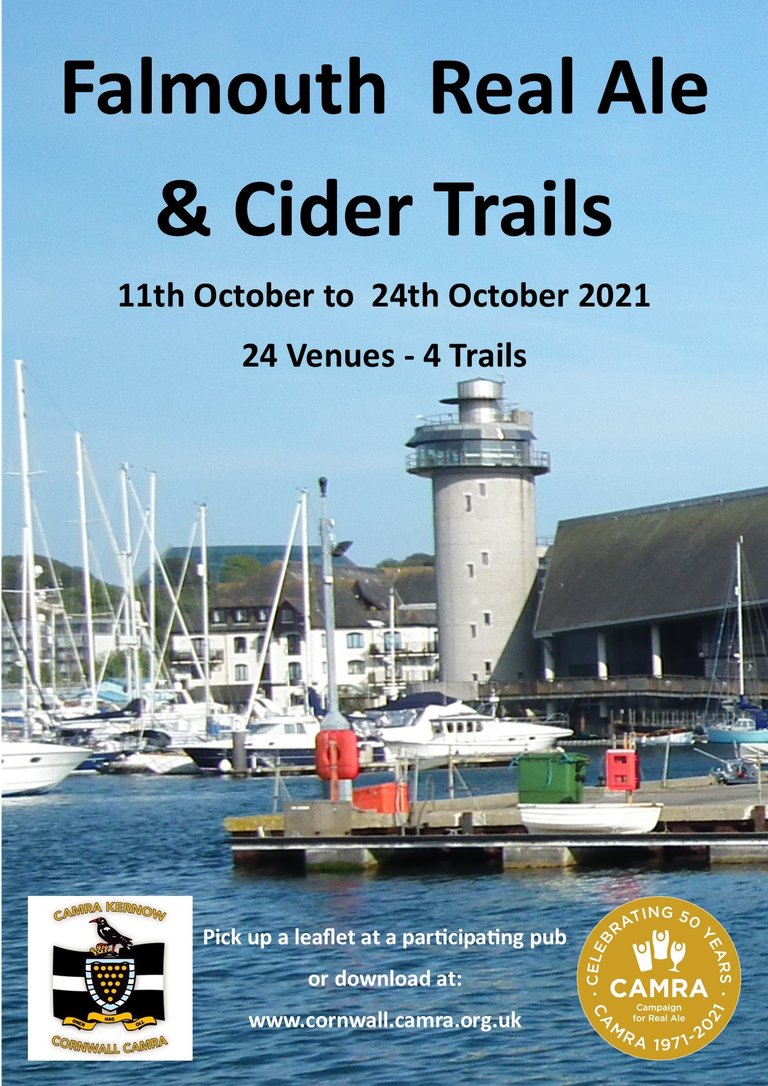 The following pub and brewery news was reported at the October 2021 Committee Meeting.
Cornwall CAMRA have organised 24 pubs to jointly run a Falmouth Pub Trail - details Falmouth Pub Trail Leaflet 2021
Pub News
The Royal Albert Bridge Inn, Wolseley Road, Saltash Passage, is currently closed. Signs in the windows indicate that this pub closure is due to Covid, but will remain closed until further notice. Also in the window are posters advertising the Extreme Circus at Central Park, which runs until 26 September 2021. There are no current Planning Applications for the RABI (up to 30/9/21). The Lord High Admiral, Stonehouse, now has amended pub and food hours. Basically, it now opens at 1600 (1200 Friday, Saturday and Sunday), with burgers the main food choice Mon – Thurs until 2100, and pizzas Fri – Sun 1200 – 1500 (Sunday roast available until 1600, pizzas from 1700) until 2100.Walkhampton Inn, Walkhampton, will be closed from Monday 4th October until Thursday 21st October due to essential work. The Office, Stonehouse, has had planning permission granted for change of use of public house into two self-contained units, at 39 High Street, Stonehouse, Plymouth PL1 3SJ , ref no 21/00572/FUL refers. Pub closed on WP on 16/9/21.
Thatchers and Weston's cider is no longer considered real cider by the APPLE Committee of CAMRA.
Plymouth CAMRA LocAle Scheme
There are currently 73 establishments listed as being accredited to the Plymouth CAMRA LocAle Scheme. These are listed on the branch website.
CAMRA Member Discount Scheme and CAMRA Voucher Scheme.
There are currently 21 establishments listed as being members of the CAMRA Member Discount Scheme, and a further nine which are part of the CAMRA Voucher Scheme, making 30 in total. Please give these pubs your support if/when you go out! These are listed on the branch website.
Planning Applications
Planning Applications were submitted for conversion of the former Edgcumbe Hotel, 2 Molesworth Road, into domestic dwelling (HMO), one in 2019 (19/01092/FUL, dated 6/9/19) and one in June 2020 (20/00872/FUL, dated 22/6/20). The pub entry has now been updated on What Pub, following confirmed conversion.
Cask Marque Accreditation
The George Inn, Plympton; the Old Smithy, Ivybridge; the Ship Inn, Barbican; & the Westward Inn, Lee Mill, are no longer Cask Marque accredited, wef 16 July 2021.
Brewery News
Bere Brewery are now brewing weekly to keep up with demand. Summerskills Brewery are now brewing First Light and Blondie.